Horses - Purebred Registered Paso Finos

GLIDE RIDE A GAITED HORSE!

All of our horses are very sweet-tempered, friendly, with good conformation and strong feet. They are naturally gaited for a smooth ride!
All horses are microchipped and registered with the New Zealand Iberian Horse Association (NZIHA) and the Paso Fino Horse Association (PFHA) (USA).

They are regularly wormed, hoof trimmed and had dentristy. Their feet and teeth are as well conformed as they are according to the people who treat them!
If purchased as foals or youngsters it will be agreed that they will not be ridden before they are three years of age. Our
horses will be sold only to good, kind homes.

Abi Ricketts of
Abi's Natural Horsemanship
h
as worked with some of our horses.
Contact: [email protected]
FOR SALE:
We have a rising one year old gelding for sale now on TradeMe (see Home page).
(Our four year old mare Winnfarms Isla de Flores has been sold.)

SANTANA DEL CARDO
Frozen Semen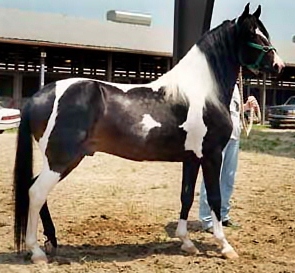 Photo by Deborah McMahon-King
We are pleased to be able to offer the last remaining doses of the tricolour PASO FINO / SPANISH JENNET SANTANA DEL CARDO'S FROZEN SEMEN FOR SALE. Santana was "Mundial" (World) Champion. Maximum three doses per purebred Paso Fino mare. She must be a non grey proven breeder not more than 12 years of age.

These limited doses are NZ$50 each and the stud fee is to be paid to Deborah McMahon-King upon confirmed pregnancy. The first pregnancy for the US breeding season of 1 February to 31 January of each year is US$1250 with ALL subsequent pregnancies for that year to be US$1000.

All breeding and associated costs are payable by the mare owner. We are simply making provision of Santana's frozen semen which is stored at Matamata Veterinary Services. It is understood that an experienced equine reproductive specialist will be used for the procedures.

If this sounds like your mare and you are interested please contact us!

(Please refer to information and video clips of Santana on the Paso Fino / Spanish Jennet page.)

Contact: [email protected]