Miniature Cattle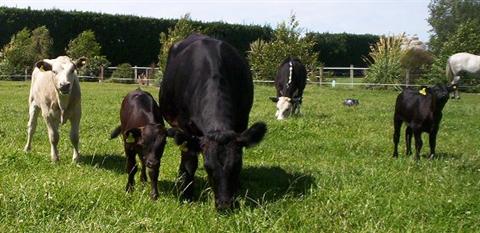 Our Dexter cattle are considered to be miniature cattle because they are all under 42 inches (106.7cm) at the top of the hips. However they are
naturally small
and not made this way by necessarily breeding for smaller animals as with some other miniature cattle.
The photo to the right is of our Grade 3 (G3) cow Greenridge Colleen with her G4 male calf Eamon at six weeks of age January 2006. To the left is a creamy-coloured Charolais Friesian cross heifer Suzy of three months. To the right is another six week old black G3 Dexter heifer Greenridge Erin.
The photo at the bottom taken in December 2006 shows Eamon with Suzy as yearlings with two week old red female G3 calf Greenridge Dymphna. Dymphna (Dimpie) is currently our smallest cow at 36" (91.5cm). She is in the line up on the Dexter page - second from the right.
Within the accepted range for Dexter cattle, we aim for the smaller size and are breeding to bulls which are known to produce small progeny.
Our cattle have a
gestation period of 272 - 273 days
, 10 days shorter than larger sized cattle.

Dexter Cattle Society NZ Inc

Mainland Dexters

Rarebreeds