Purebred Registered Dexter Cattle
SORRY ALL OF OUR CATTLE ARE SOLD NOW

However you can 1. send your requirements to our Mainland secretary to circulate Canterbury, Nelson, Westland members
(link below)
2. checkout the Market Place on the Dexter Cattle Society New Zealand website
(link below)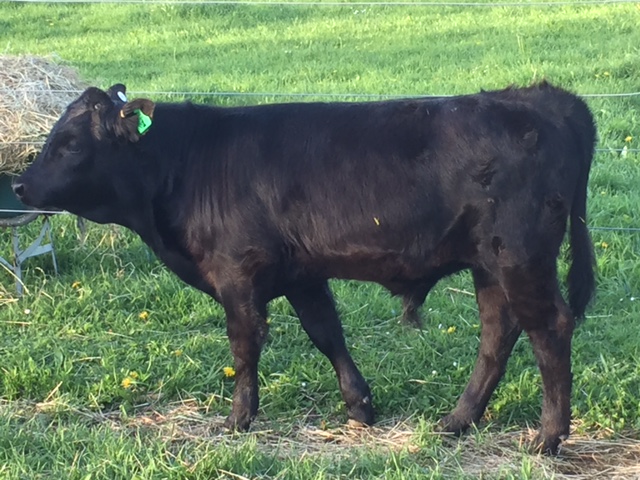 Greenridge Mac Corcaigh
(Mac)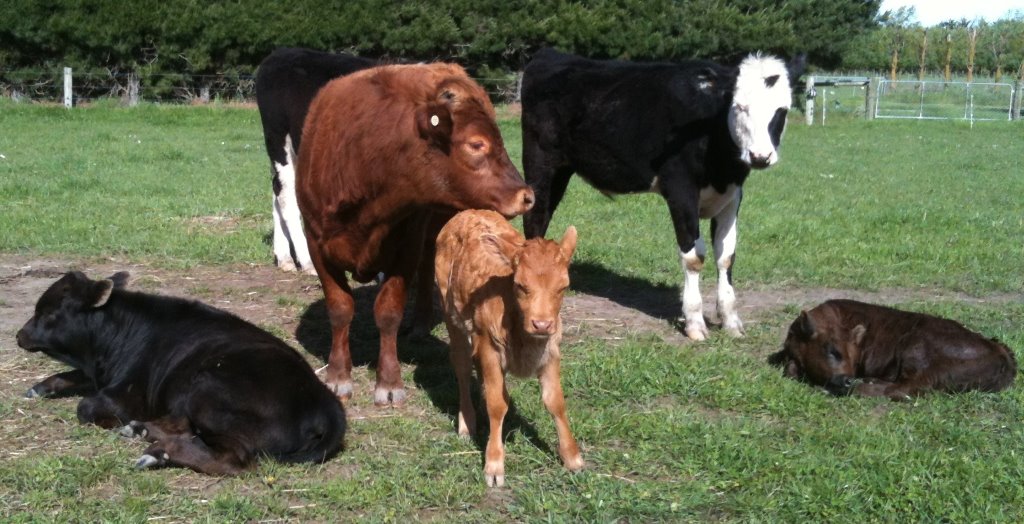 Young Dexter calves (and some young steers to eat the grass!) with visiting bull Jimari's Murphy Sargeant in October 2013. The yearling part Friesian steers give a comparison of size as Murphy is full grown.
The Dexter is a small breed of cattle that have descended from the Irish Kerry during the 1800's. They are hardy yet tractable animals known colloquially as "beefy little milkers". Because of their small size and even temperaments they are ideally suited to smaller properties. Three adult Dexters can occupy the space of two ordinary-sized cattle beasts. Colours range over predominantly black, red or dun with very few or no markings at all. White is only allowed from the navel back.

Our cows are also considered Miniature Cattle because they are not over 42 inches (106.7cm) at the top of the hips. Our cows have mainly been about the 100cm mark (39").

All of our cattle are registered with the Dexter Cattle Society of New Zealand and are sire and dam verified.

Dexter bulls are increasingly used on dairy farms to give easy birthing calves to heifers. The calves are born small but grow very quickly into beefy type of short stature and often kill out at the same percentage as same age larger animals. The bulls we have used have all had exceptional temperaments, another reason to use a Dexter over dairy heifers! THEY ARE VERY ATHLETIC!! We are aware that they can often start breeding at 6-7 months, and one is recorded as a sire when he was only 10 weeks old! Our cows generally calve about 9 months and 4-5 days, shorter than larger cattle by about 4-5 days.

The dun bull calf at the bottom of the page got a VERY LARGE SIZE Friesian cow pregnant as a yearling, and has the progeny to prove it! He is Greenridge Donnchadh Bram and this photo is of him as a very young calf.


Dexter Cattle Society NZ Inc


Mainland Dexters


Rarebreeds


Miniature Cattle